Ayahuasca spiritualities were present at the Parliament of the World's Religions.
"To all the religious and spiritual leaders of the world – there is still an opportunity to save the Earth if we all act in the same direction. Why did I plant 2 million trees? I never polluted or contaminated the Earth. I never contaminated the waters. Why did I plant? I planted because I wanted to help others realize that we can be rich without money. We have the richness of the trees and of the Earth."
Benki Piyãko Asháninka
For the first time since the Parliament of the World's Religions began in 1893, this year marked the first time that indigenous peoples of the Amazon attended this global interfaith gathering. The Parliament was held from November 1-7, 2018 in Toronto, Canada, in a spirit of inclusion, respect, compassion and tolerance. Indigenous spiritual and community leaders from Peru (Elena Valera Vasquez, Shipibo), Colombia (Miguel Evanjuanoy Chindoy, Inga), and Brazil (Benki Piyãko, Asháninka) were joined by a team of a dozen key players in the global ayahuasca spiritual movement, including Benjamin Mudge, a researcher and musician from the United Kingdom, whose vision and leadership created this opportunity.
The objective, which we collectively achieved, was to effectively raise awareness on traditional spiritual practices of indigenous peoples and other religious/therapeutic minority groups in which the use of ayahuasca stands central. As such, a multidisciplinary approach was facilitated through the inclusion of researchers and representatives of the Union of Indigenous Yagé Medics of the Colombian Amazon (UMIYAC), the Santo Daime church, and the International Center for Ethnobotanical Education, Research and Service (ICEERS).
The Parliament of the World's Religions
The Parliament of the World's Religions is the world's largest and most diverse interfaith gathering, which takes place every four years in different cities around the world. It is attended by thousands of people representing over 200 religions and spiritual traditions, gathering in mutual respect and working together to discussion solutions to humanity's global problems such as climate change, war, poverty, sexism, racism and other forms of discrimination and injustices. The interfaith diversity of the Parliament was reflected in our group, which involved a historic congregation of indigenous, Daime and other ayahuasca lineages: we worked together intensively throughout the week with mutual respect and harmonious friendship.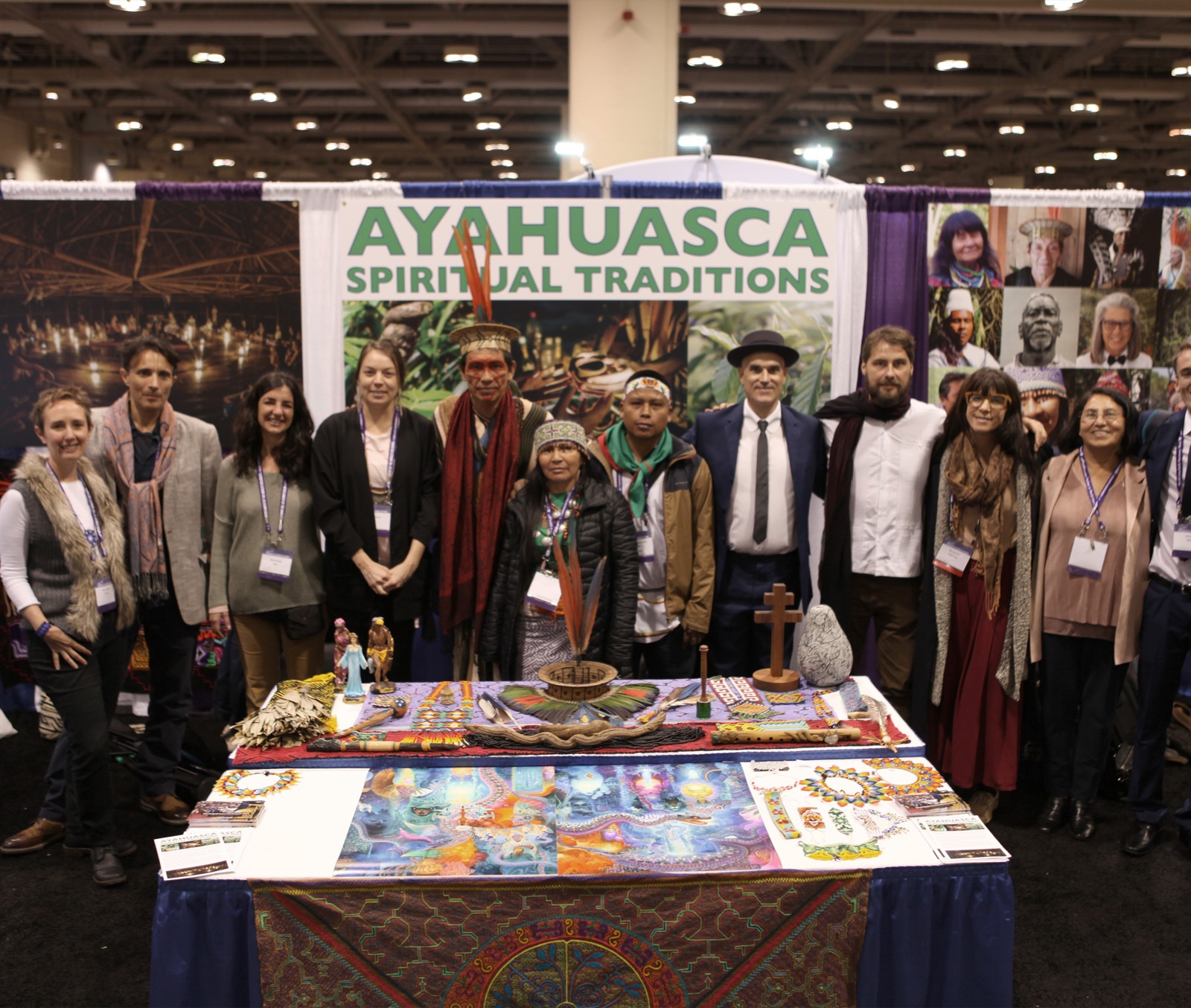 Our 15-person group collectively made an impression on the thousands of people gathered at this event – people from different walks of life who were open to hearing about the importance of spiritual and religious protection for ayahuasca traditions. Men and women from around the world have opened their hearts and minds to the message of the Amazonian individuals who participated. This message not only included a strong demand for legal recognition of traditional medicinal and spiritual practices with ayahuasca, but also a plea to take care of mother nature. They shared how the widespread destruction of nature endangers the traditional knowledge, spiritual traditions and the cultures of indigenous peoples, and that therefore both issues need to be addressed simultaneously. Mainly, because these traditions with plant medicines facilitate the reconnection with nature, which will help us address this current planetary crisis more effectively.
In recognition of the spiritual traditions that work with ayahuasca, the Parliament of the World's Religions offered us a place on the main stage during the Justice assembly. As we stood on stage together, listening to icaros from Elena Valera Vasquez and Benki Piyãko, the group invited the thousands of attendees to join us in a collective prayer for a stronger recognition of ayahuasca as a traditional medicine, a master plant and/or a religious sacrament used by indigenous peoples, and increasingly non-indigenous people around the globe. This to ensure a future where carriers of this medicine can move freely and where the sacred lands of the indigenous stewards of these traditions are protected and restored to their care.
Actitivities
Ayahuasca Spiritualities booth:
The presentation room (booth) in the exhibit hall was permanently staffed by members of the collaboration who spoke with hundreds of peoples about ayahuasca over a 7-day period. The booth included an alter featuring key artifacts related to ayahuasca spiritualities, flyers and framed posters/pictures.
Ayahuasca Spiritualities presentations:
This was a formal 1.5-hour presentation on ayahuasca spiritualities, featuring 5 speakers. This presentation was accepted through the formal Parliament submission process. (Part 1 and Part 2, livestream videos)
Public fundraising event:
This evening event was organized by the Toronto Psychedelic Society on November 3 at Alternity community café and space. It was attended by a diverse group of local people and featured talks by delegation members, audience Q&A, and the sharing of sacred songs.
Main stage performance:
All 15-members of the group were invited onto the main stage of the parliament to introduce ayahuasca spiritualities in a brief discourse (presented by Benjamin Mudge). Elena Valera Vazquez (Shipibo curandera, Peru) and Benki Piyãko (political and spiritual leader of the Asháninka, Brazil) shared sacred songs with thousands of parliament attendees. (Video of Elena and Benki's Icaros livestreamed: skip to 1 hour 45mins)
Entheogenic plant medicine presentation:
This was a two-hour presentation in collaboration with the delegation from the Indigenous Peyote Conservation Initiative. "Entheogenic Plant Medicines: An Introduction for Spiritual Practitioners" was attended by a diverse audience that included representatives from UN Environment, indigenous peoples, spiritual leaders, and Parliament attendees.
Interfaith Rainforest Initiative panel:
During his participation at the Parliament, Benki Piyãko (Asháninka, Brazil) was invited to an additional panel organized by the Interfaith Rainforest Initiative, an important international and interfaith partnership on forest conservation funded by UN Environment. Also included in the panel discussion was Davi Kopenawa Yanomami – another well respected indigenous leader from Brazil. (Video of presentation by Benki Piyãko at minute 12:05)
Dozens of parallel meetings and participation in Parliament events.
Crowdfunding campaign video:
Our Crowdfunding video was viewed over 30,000 times and posts and livestreams from the event received thousands of views, likes, and shares. Over 190 individuals contributed to the crowdfunding campaign, without whom this initiative would never have been possible.
Healing Powers episode: This short documentary, produced by Mareeza Stertz, provides a snapshot into what it was like to be at the Parliament and this historic moment for the representation of ayahuasca spiritualities.
This global stage represented an important opportunity to introduce the ayahuasca spiritual movement, at a time when ayahuasca ceremony facilitators are suffering religious persecution because the tea is getting caught in international drug control mechanisms. Furthermore, the indigenous ayahuasca spiritual traditions have profound spiritual wisdom, and deep connection with Mother Nature, which are precisely the positive influences that Western society needs in this critical era. In fact, many of the words shared by our Amazonian group members spoke to the importance of ayahuasca in supporting their communities to implement strategies to maintain ecological balance in a time where their territories are threatened by extractive industries and policies.
A special thanks to the crowdfunding supporters and to the individuals and organizations represented within the Ayahuasca Spiritualities group:
Andrea Langlois: Director of Engagement, International Center for Ethnobotanical Education, Research, and Service (ICEERS)
Ben Meeus: legal advisor to the European Santo Daime churches
Benjamin Mudge: Psychiatry PhD Candidate, Flinders University
Benki Piyãko: Spiritual leader of the Asháninka people of Brazil
Débora González: Clinical Psychologist & ayahuasca researcher
Elena Valera Vasquez: Maestra Curandera, Shipibo people of Peru
Mareesa Stertz: documentary filmmaker, "The Healing Powers" series
Marylou Sanchez: community organizer, Toronto
Miguel Evanjuanoy Chindoy: Community Leader, Union of Indigenous Yagé Medics of the Colombian Amazon
Ricard Faura: Social Psychologist, International Center for Ethnobotanical Education, Research, and Service (ICEERS)
Riccardo Vitale: Anthropologist, Union of Indigenous Yagé Medics of the Colombian Amazon
Tanya Kammonen: Integration Director, Temple of the Way of Light, Peru
Tony Moss: community leader and musician, I.AM.LIFE Project
Vicki Kraft: leader of a Santo Daime Church in Los Angeles, USA
A special thanks to The River Styx Foundation for sponsorship, the many crowdfunding supporters, and to the individuals and organizations represented within the Ayahuasca Spiritualities group
Categories: NEWS , ADF
Tags: Parliament of the World's Religions , Toronto , ayahuasca , Ayahuasca Defense Fund
IMPORTANT: Please read our Disclaimer at the bottom of the site if you are thinking to use psychedelics after this read.