ICEERS | 18 October 2023
Barcelona is the birthplace and epicenter of the non-profit Cannabis Social Clubs (CSC) model in Europe. This pioneering approach to cannabis consumption and regulation has inspired other countries to follow suit. Local activists report that Barcelona has over 200 CSCs, with roughly 350 throughout Catalonia. CSCs in Spain are set up as non-profit organizations that provide a space for people of legal age to engage in cannabis consumption and cultivation. CSCs focus on promoting well-being through health, social, and legal tools and offer an alternative to the unregulated cannabis market.
The CSC model in Catalonia acts as a laboratory for gathering valuable data on harm reduction practices. By adopting a community-driven approach, CSCs protect their members from the unintended consequences of prohibition-based policies. Their efforts not only reduce risks but also help destigmatize cannabis, thereby contributing to a more inclusive and informed drug policy landscape.
Catalonia, and Spain as a whole, currently lack specific regulations to govern CSCs which results in a legal gray area. However, the international interest in the CSC model is on the rise. Countries like Switzerland, Malta, and Germany are taking steps to establish community-focused access points within the evolving cannabis regulatory framework.
In August 2023, the city of Zurich in Switzerland initiated a CSC pilot study program called ZüriCan. This groundbreaking initiative aims to explore the impact of regulated cannabis sales on consumption patterns and participant health over three years. The program operates in compliance with city regulations and reports its findings to the UN's International Narcotics Control Board.
The ZüriCan pilot study can accommodate 2,100 participants and has 21 dispensing locations that include pharmacies, social clubs, and a dedicated drug information center. It introduces the social club model, allowing members to legally purchase and consume cannabis. The data collected will serve as a foundational framework for informed policymaking in the country. The program focuses on psychological health and well-being with an interest in studying how consumption patterns affect the mental health of people who partake in cannabis.
Building Alliances Within the CSC Framework
ICEERS has been involved in the CSC landscape for over a decade. Our organization offers guided CSC tours in Barcelona to international policymakers, healthcare workers, and activists interested in understanding this pioneering model. These tours provide comprehensive knowledge of the CSC model and cover historical, legal, operational, and financial aspects of the local scene. These meetings facilitate international exchange and networking opportunities with experts in harm reduction, public health, advocacy, and related fields. The intention is for future CSC models to integrate its promising aspects and help mitigate challenges. International exchanges and information can highlight both the advantages and drawbacks, fostering a more inclusive and multifaceted perspective on drug policy.
Earlier this month, a group of Swiss public health professionals involved in the new Zurich pilot program visited a local cannabis social club in Barcelona to exchange information on harm reduction strategies, cannabis consumption patterns, and the potential of CSCs to drive positive change.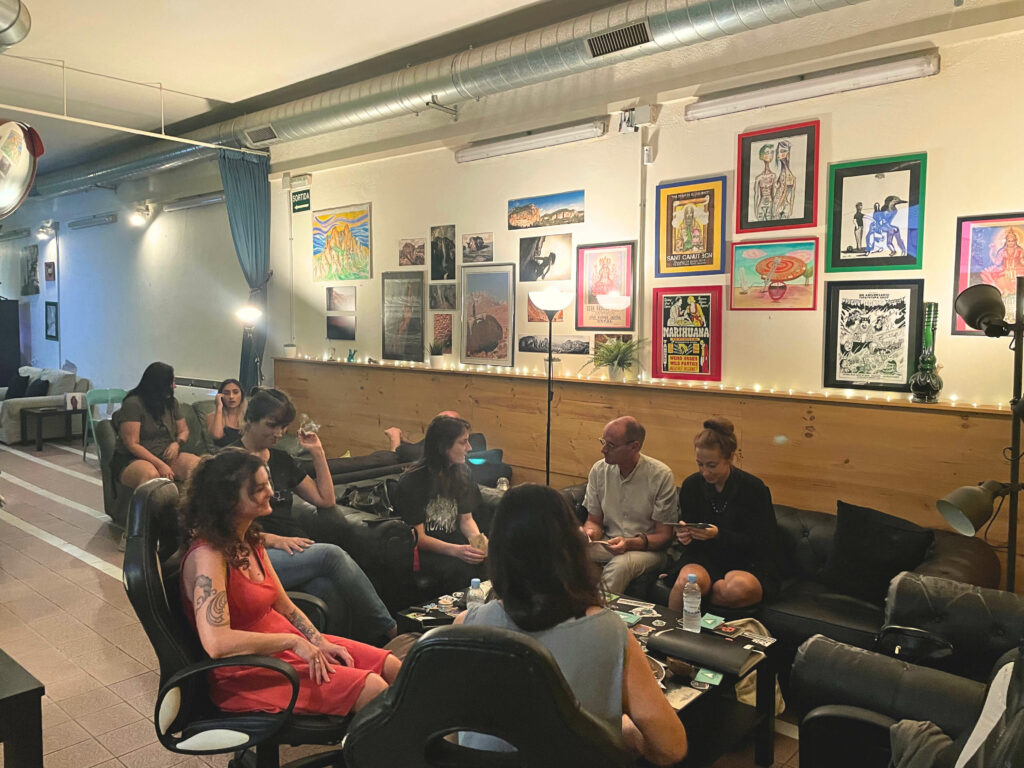 Swiss delegates visiting Sagrada María.
This tour took place at Sagrada Maria, a small CSC focused on community support, offering extensive laboratory testing for cannabis to educate and inform its members. ICEERS also invited local cannabis advocates to share their perspectives with the Swiss delegation. Anna Obradors-Pineda, a Barcelona-based researcher conducting a PhD in Social Anthropology at Universitat Rovira i Virgili, provided insights into the current findings from CSCs in Barcelona. She explored some of the model's strengths and limitations and inquired about the progress of the Swiss pilot program. Ana Afuera Gómez, a founding member of La MACA Barcelona (Cannabis Self-consumption Associative Movement), ENCOD (European Coalition for Fair and Effective Policies), and ConFAC (Confederation of Spanish Federations of Cannabis Associations) discussed local actions and challenges faced by CSCs in the region.
Uniting Perspectives Between the Swiss and Catalan Models
The exchange between those involved in the Swiss and Catalan models revealed several insights. The Swiss delegation discussed the details of their CSC pilot study and their perspectives on the program's parameters. One representative from Zurich mentioned, "The pilot study is in its early stages, facing challenges and prejudices in a still-emerging field of research and regulation." The Zurich pilot program emphasizes education over punitive measures and aims for a compassionate and effective response.
The Swiss delegation is conducting surveys every six months to track changes and gather data. The hope is that regulated access to cannabis will encourage participants to explore different products and find ones that suit their needs, potentially moving away from seeking the varieties with the highest THC content available. There was also recognition of diverse preferences. Some participants want to take cannabis in social CSC settings while others prefer to get cannabis from pharmacies and partake in the comfort of their own homes.
Swiss officials mentioned the challenges of getting some people to participate in the pilot program. "Trust and data privacy are significant concerns for cannabis users when participating in government-regulated programs" one Swiss delegate mentioned. They touched on issues of data privacy and trust in the program. They mentioned that potential participants may have concerns about data collection and the potential impact of future governmental changes on the program. Efforts are being made to build trust with the pilot study participants.
The Swiss delegates discussed the possibility of allowing social clubs more flexibility in terms of the number of members and locations. They also highlighted the importance of diversity within social clubs and suggested social equity programs to encourage broader participation. One Swiss representative stated, "Greater diversity and openness in social clubs would be desirable for a more inclusive and representative cannabis community."
The Barcelona cannabis advocates emphasized the CSC model's role in building a supportive community, reducing stigma, and fostering social cohesion among members. The Swiss group praised the grassroots nature of Barcelona's social clubs and their organic growth, highlighting the importance of collaboration.
The CSC model in Spain and Switzerland have some similarities and other key differences. The following table compares the Spanish and Swiss cannabis social club models.
Comparison of CSCs in Barcelona and Zurich
| | | |
| --- | --- | --- |
| Aspect | Barcelona | Zurich |
| Regulation | Unregulated, self-organized, no governmental approval. | Pilot program is approved and regulated by the local Swiss government. |
| Participants | Not open to the general public. Must be invited by a current member to get in and become a member yourself. The size of the membership is set by each club. | A maximum of 2,100 pre-approved participants who meet specific criteria will be allowed. Not open to the general public, must speak German and be a Swiss citizen. |
| Purchase Locations | Purchases can be made in the city's CSCs that you are a member of. Sales are only done within the club's premises. | 10 designated pharmacies, 10 CSCs, and the drug information center. |
| Consumption | Within club premises or at home. | In designated social clubs or at home. |
| Supply Point Selection | Invitations by existing members or a doctor's note. | Selection of one supply point (pharmacy, CSC, or drug info center). |
| Data Collection | Not specified, but various research studies have been conducted at CSCs in Spain. | Regular online surveys are sent to participants to study the impact of regulated cannabis sales. |
| Approved Cultivators | Not specified. Each club has member cultivators providing cannabis to others in the CSC. | Only program-approved cultivators and product makers from Swiss companies are allowed. |
| Cannabis Products | Depends on the club. A variety of cannabis products are available with different cannabinoid profiles. Laboratory testing is not the norm. | Only flower and hash products with different profiles are offered. All products have to be laboratory tested and approved by the Zurican program. |
Conclusion
CSCs offer a dynamic laboratory for exploring innovative harm reduction strategies in cannabis consumption and approaches centered on consumer rights. Ongoing research and data collection will be essential to assess the long-term impact of the cannabis social club model. The process will require adjustments and increased diversity among social clubs, with future regulations aligning with harm reduction principles and community needs.
The visit by Swiss healthcare professionals to Barcelona's cannabis social clubs represents a significant step toward promoting collaboration and shared learning. This exchange underscored the significance of adopting a comprehensive approach and fostering international cooperation to address the challenges CSCs face.
May the future of drug policy be collaborative!
In the spirit of advancing responsible and informed drug policy, we invite policymakers, social leaders, and community organizers in the cannabis space to connect with ICEERS. If you are interested in learning about the CSC model in Catalunya, we welcome you to get in touch.
References and Further Resources
Categories: NEWS
Tags: Barcelona , cannabis , Cannabis Social Clubs (CSC) , cannabis associations , cannabis policy